Amazon:Amazon.com,Founder,History And More.
Treasure Biz, 2 years ago
5 min

read
367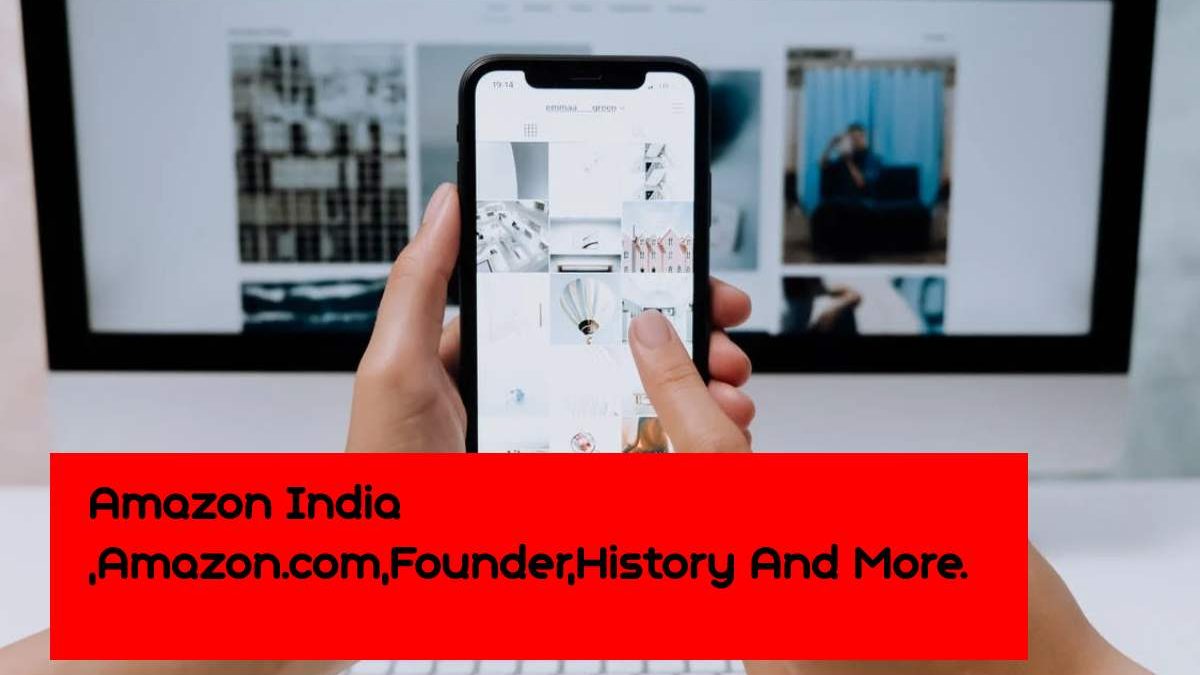 Amazon India-,Inc was founded in 1994 by Jeff Bezos in the United States. The company initially started selling books and expanded to sell electronics, home products, software, groceries, jewellery, etc. It later moved to other countries to expand its market. Amazon India grew to become one of the largest e-commerce platforms in India.
Today, Amazon is not only an e-commerce company but has also diversified into some fields, including cloud computing, publishing, on-demand music and video streaming, AI, consumer electronics, etc. The company is constantly looking for new segments.. Amazon has acquired more than 100 companies to date in its attempt to grow.
Other subsidiaries include Amazon Studios, Amazon Publishing, Amazon Music and Amazon Web Services.
Amazon India- Founder And Team
Amazon was founded in 1994 by Jeff Bezos (Jeffrey Preston Bezos). He is an American businessman and industrialist. After graduating in Electrical and Computer Engineering from Princeton University in 1986, Bezos worked for Fitel (a fintech telecommunications startup), where he worked on building a network for international trade. Bezos later promotes to head of development and head of customer service at Fitel.
1998 To 1990
From 1988 to 1990, Jeff Bezos worked as a product manager at Bankers Trust (an American banking company). In 1990, Bezos joined the hedge fund D.E. Shaw and Co. and worked there until 1994.
1994
In 1994, Jeff Bezos began his entrepreneurial journey and founded an online bookselling company from his home garage, which has grown into the world's largest online marketplace, Amazon. Interestingly, Jeff Bezos also founded Blue Origin, an aerospace company, in 2000.
Jeff Bezos has stepped down as Amazon's CEO and will serve as Amazon's executive chairman. Andy Jassy: The head of cloud computing has been named Amazon's new CEO.
Andy Jassy has taken over as chief executive of Amazon. Jassy joined Amazon in 1997. She holds an MBA from Harvard Business School, and he founded Amazon Web Services (AWS), a cloud platform with a million users. Andy Jassy's rise from Head of Cloud Computing to CEO of Amazon is remarkable and underscores the importance of web services for Amazon's future.
Directors Of Amazon India
Amazon India currently works with three administrators. They are PV Elayath, Atul Jain and Ashish Jain.
PV Elayath has been on board for more than six years. Atul Jain and Ashish Jain were appointed in November 2015.
Amazon India has more than 50,000 employees in India, including around 30,000 warehouse workers and couriers. The company employs approximately 8,40,000 people worldwide.
Amazon India – History
Jeff Bezos jokingly describes the founding of Amazon as a "framework for minimizing regret". Jeff didn't want to regret not taking advantage of the rise of the Internet that had gradually started to conquer the world. In 1994, Jeff resigned his position as Vice President of D.E. Shaw & Co. to start his own business.
Amazon was initial register as Cadabra, Inc. Jeff Bezos wrote his company's first business plan on an overland trip from New York to Seattle. However, when Jeff discovered that people had misinterpreted the name Cadabra as "corpse" (corpse means corpse), he changed the name and bought the slowless.com domain name. But that all changed when his friends didn't like the name and named their company "Amazon."
The first to invest in Amazon was Jeff Bezos' parents, who invested $250,000 in the company. Jeff listed 20 products that could make sales online, so he decided to start selling books. In 1997 Amazon had 2.5 million titles.
In 1998, Amazon developed Junglee Corporation (a provider of database technology that helps consumers find products on the Internet) and Planet All, a social networking, calendaring, and address book site. The company also began to expand its Offers beyond the books.
In 2005 Amazon also went into crowdsourcing with "Amazon Mechanical Turk". Amazon entered the cloud computing industry with "Amazon Web Services" (AWS) and realized how far-reaching the industry is. In 2006, Amazon joined the video-on-demand space with Amazon Unbox.
In November 2007, Amazon launched Kindle, its first electronic reading device, which became very popular among users.In  the same year Amazon launched Amazon Music.
Another Amazon product that has gained popularity is "Alexa," an AI virtual assistant technology developed by Amazon.
Other Services Offered By Amazon
Apart from Amazon being the biggest eCommerce platform, it also offers some excellent services, namely:
go amazon
Amazon Go is a next-generation magazine chain for Amazon that debuted in 2018. USA and UK mainly presents the magazines; the central concept of these magazines is that they do not come from Cashiers in the store. But who should customers deal? Everything there is automated, and they have self-service payment terminals where customers can pay for their deliveries after picking them up at the store. So there are currently 42 Amazon Go stores.
Amazon Prime
Amazon Prime was launched globally in 2016, excluding some countries like North Korea, Mainland China, Russia, Syria, Cuba, and Iran. Because it is the OTT video streaming platform offered by Amazon. And it is a subscription-based platform that delivers movies, TV series, web series, and other video content to the public.
Amazon Pay
This payment service allows you to pay for goods and services from your Amazon account. Because it is Amazon's online payment processing service. So the payment service is supports by anti-fraud technology, so you can safely complete each transaction.
Related posts