Forex and Cryptocurrency Forecast for 2022
Treasure Biz, 1 year ago
8 min

read
547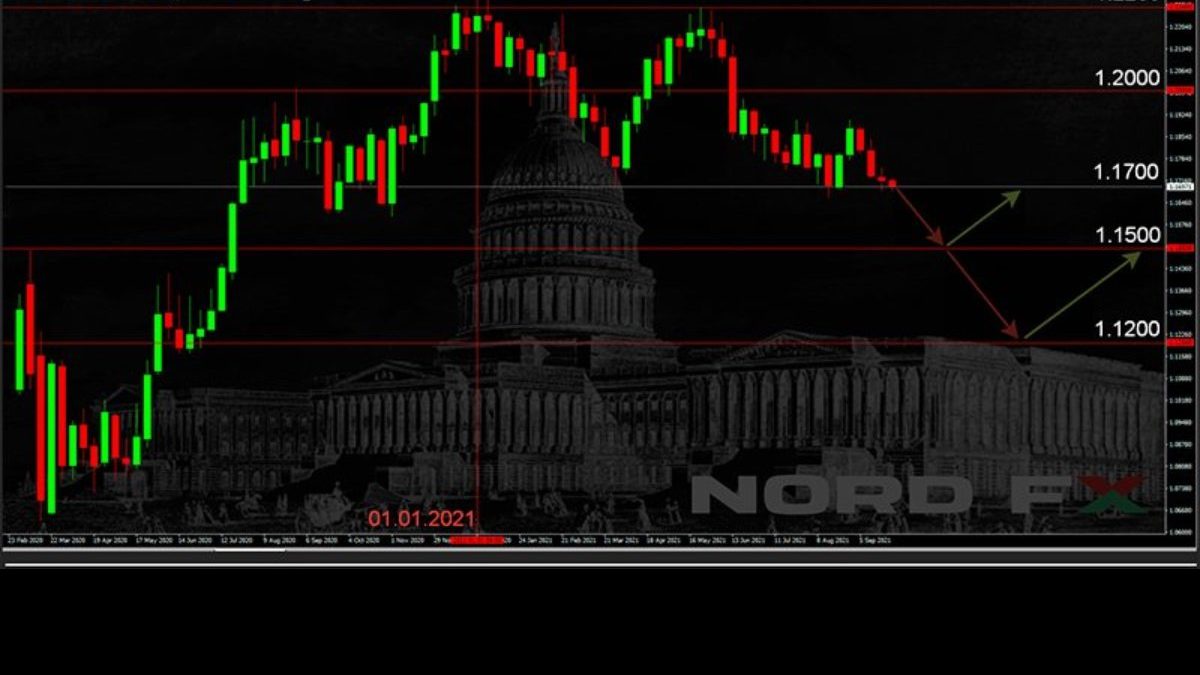 What is Forex?
Forex and Cryptocurrency Forecast for 2022: Forex (FX) is an acronym for foreign currency and foreign exchange. Foreign exchange converts one currency into another for various reasons, usually for trade, commerce, or tourism.  According to a 2019 triennial statement from the Bank for International Settlements, daily forex trading volume reached $6.6 trillion in 2019.
Forex trading can be risky and compound. Because there are large trade flows within the system, it is hard for dishonest traders to influence the price of a coin. This helps to create transparency in the market for investors and access to interbank transactions.
Retail investors should learn about the forex market, and determine if it is regulated in the US or UK (US and UK dealers have more control) or in a foreign exchange market. A country with more lax rules and supervision. Knowing what kind of account protections are available in the event of a market downturn or if a dealer becomes insolvent is also a good idea.
About Forex Trading
The foreign exchange market (FX) is a global market for exchanging national currencies.
Due to the global reach of trade, commerce, and finance, foreign exchange tend to be the world's largest and most liquid asset markets.
Currencies are traded against each other as currency pairs. For instance, EUR / USD is a currency pair for trading against the US dollar.
Foreign exchange markets exist as spot (cash) markets and derivatives markets, which offer futures, forwards, options, and currency swaps.
Market participants use foreign exchange to hedge against international currency and interest rate risks, speculate on geopolitical events, and diversify portfolios, among other reasons.
What is Cryptocurrency?
Cryptocurrency is a digital payment system that does not depend on banks to verify transactions. It is a peer-to-peer system that allows anyone to send and receive payments anywhere. Instead of being physical money transported and exchanged in the real world, cryptocurrency payments exist as digital entries in an online database that describes specific transactions. The transactions are record in a public ledger when you transfer cryptocurrency funds. Cryptocurrency is stored in digital wallets.
Cryptocurrency gets its name because it uses encryption to verify transactions. It means that advanced encryption is involved in storing and transmitting cryptocurrency data between wallets and public ledgers. The purpose of encryption is to provide security and protection.
The first cryptocurrency was Bitcoin, founded in 2009, and is still the best known today. Much interest in cryptocurrencies is trading for profit, with speculators sometimes driving prices sky-high.
Top 5 Crypto Predictions – Forex and Cryptocurrency Forecast for 2022
Will the cryptocurrency skyrocket, crash, or provoke investors down an unpredictable path for the foreseeable future? And, Will Bitcoin continue its volatility? Will regulation play a more significant role? What type of cryptocurrency will be the best this coming year?
Crypto continued its popularity in 2021. Goldman Sachs accepted Crypto. Coinbase debuted in April 2021 (the first significant crypto company to go public) and launched the first US bitcoin-linked exchange-traded fund in October.
According to CNBC, Bitcoin's most well-known cryptocurrency, had a good year. The digital currency has grown nearly 70% since the beginning of 2021, bringing the entire crypto market to a combined value of $2 trillion.
Crypto Prediction #1: Towards a Crypto Crash or an Exciting Rise?
Cryptocurrency prices could fall further in 2022. They hit an all-time high of nearly $69,000 in November but are now below $50,000, almost 30% below their peak. Carol Alexander, a professor of finance at the University of Sussex, expects Bitcoin to fall to a low of $10,000 in 2022. It would wipe out most of its gains over the past year and a half.
Crypto Prediction #2: Many More Investors Will Adopt Bitcoin
According to The Ascent, Ric Edelman, founder of the Digital Assets Council of Financial Professionals, predicts that more than 500 million people worldwide will own Bitcoin by the end of 2022. Cointelegraph, BlockFi co-founder Flori Mark agrees to the deal, crediting regulators with clarity and a better understanding of the industry to help drive adoption.
Crypto Prediction #3: The First Spot Bitcoin ETF Could Be Approved
Some crypto investors predict that the first Bitcoin exchange-traded fund in the US could be approved this year. It gives investors direct exposure to the cryptocurrency. Besides, the Securities and Exchange Commission cleared the ProShares Bitcoin Strategy ETF launch last year, but that only tracks Bitcoin futures. However, as the market is now large and mature to support it, analysts believe that a Bitcoin Spot ETF will be approved.
Crypto Prediction #4: Towards Decentralized Finance
Emerging crypto developments like decentralized finance and decentralized autonomous organizations (DAOs) are "probably the fastest growing areas of crypto," believes Bryan Gross, network manager at crypto platform ICHI. It aims to recreate traditional financial products without intermediaries, while DAOs could be seen as a new internet community. Deposits in Defi services exceeded $200 billion in 2021, and demand is expected to increase in 2022.
Crypto prediction #5: Regulators have their look at on cryptocurrencies
Crypto regulation is set to be a vital issue in 2022. Vijay Ayyar, vice president of business development and global expansion at cryptocurrency exchange, predicts 2022. He told CNBC he hopes to see some clarification on the legal "grey area" of cryptocurrencies other than Bitcoin and Ethereum. Another area of ​​interest for regulators is likely to be stablecoins, whose value tied to the price of assets like the US dollar. Tether, the world's largest stablecoin, seems controversial about whether it has enough support in its reserves to justify its peg to the dollar.
Forex and Cryptocurrency Forecast for October 17-21, 2022
During the first week, EUR/USD moved sideways along the 0.9700 horizons as markets awaited the release of US inflation data. On Thursday, October 14, the Department of Labor Statistics released new values ​​of the Consumer Price Index which exceeded the expected values.
The first reaction of the market was entirely expected. The DXY dollar index rose to 113.94, the 10-year Treasury bill yield updated a maximum 14-year high, hitting 4.08%, and EUR/USD reached the 0.9630 level. The prices of risk assets associated with the dollar by inverse correlation fell. The S&P500 index fell 2.4% and updated its 2-year low. The Dow Jones, the Nasdaq, and crypto assets behaved similarly.
But something extraordinary happened in less than an hour: all the markets, as if crazy, suddenly turned 180 degrees.
The dollar quickly began to lose positions: Firstly, the DXY fell to 112.46, and the EUR/USD crossed 0.9800. By contrast, the S&P500 was positive at the close of trading on Thursday, rising 2.6%. Analysts cite the sharp overselling of the stock market as the main reason. Stocks are believed to lose about 30% during recessions. At this point, the S&P500 is down 27.5% in 2022. As a result, some investors have decided that the bottom has reached soon, and so it is time to start buying. Many put options have recently been purchased in the US market, where profits have been made, and the released fiat has been used to buy risky assets.
GBP/USD: the United Kingdom Changes Course – Forex and Cryptocurrency Forecast for 2022
The GBP/USD chart was similar to last week's EUR/USD chart, except for the volatility. The local minimum was set at the level of 1.0922 and the maximum – of 1.1380. The range of fluctuations for the five days amounted to more than 450 points.
UK economic statistics released this week looked mixed. Friday, October 14, was the critical day when Prime Minister Liz Truss sacked Treasury Secretary Quasi Kwarteng. After this event, the markets await details on the country's next mini-budget.
Regarding the average forecast, here, the majority of analysts (75%) are on the bearish side, 25% have adopted a neutral position, while the number of supporters of strengthening the pound is 0.
The closest support levels and areas are 1.1100, 1.1055, 1.0985-1.1000, 1.0925. It is followed by 1.0500-1.0740 and the September 26 low at 1.0350.
Rainbow Price Chart – Forex and Cryptocurrency Forecast for 2022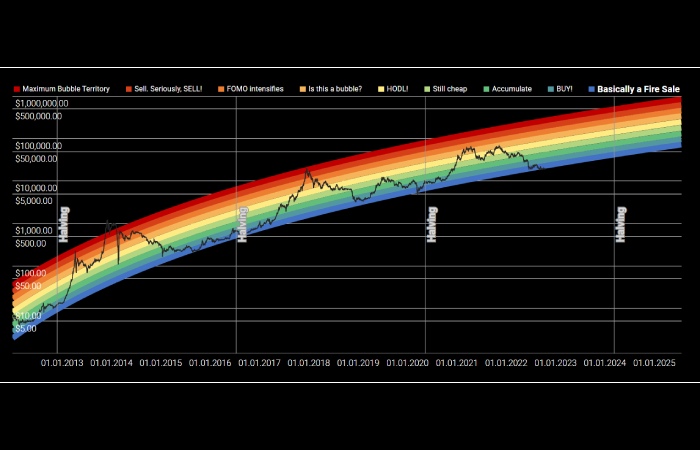 Blockchain Center's rainbow price chart looks no less bullish. (This differs somewhat from our forecast.) It shows how past price statistics can help predict the future behavior of an asset. In the long term, the chart indicates that bitcoin could reach a six-digit value of $626,383 by October 9, 2024. The flagship cryptocurrency will then hit "peak bubble territory," marked dark red.
Furthermore, the chart indicates that the current crypto winter may have bottomed out. It should be noted that the current price of bitcoin is estimated in the "Main Sell" area (marked in blue). Before another bull run, the rainbow chart also shows that bitcoin's "HODL" status will take effect at the end of the year when the asset trades at $86,151.
The color bars follow a purely logarithmic regression, which has no scientific basis. Also, the bands have been adjusted to better correspond with earlier periods. However, the chart makers note that this is at least an exciting way to examine the potential future performance of the leading cryptocurrency.
Also Read: Aeymd. Com
Related Searches:
Forex and Cryptocurrency Forecast
Forex and Cryptocurrencies Forecast
Cryptocurrency Analysis and Forecast
Related posts