Careers In Finance
Treasure Biz, 1 year ago
6 min

read
517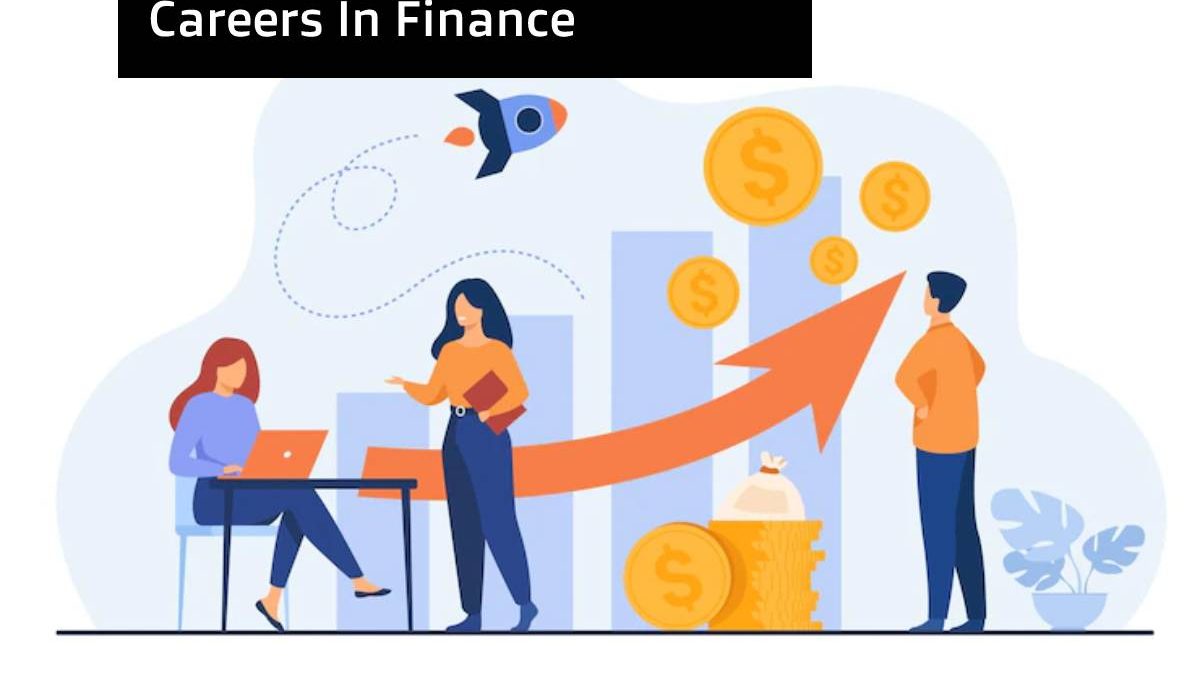 Careers In Finance Ok, you can finally say it, this iconic line from the hit Hollywood film Jerry Maguire. And while the character of Cuba Gooding Jr. in the film is a soccer player and not an aspiring investment banker, the line resonates (so loud and clear!) with anyone who aspires to a career in finance, particularly in high finance.
So yeah, go ahead and yell out loud, "Show me the money!" Yes, remove it from your system. phew!
Now that you've finally spat, sobered up, and read on… While many believe that all it takes to dream of a career in finance is ahead for money, fast math and a college degree, the truth is that it is much more complicated.
Behind the glitz and glamour of these Wall Street bigwigs lies an unquenchable fire in their bellies, tempered by patience; a lot of experience in the trenches; Courage, bravery and willingness to take risks; the right skills; relevant proof of education; and thirst to continue learning.
And how could we forget? Unlike most other careers, if you feel like walking the financial wire, then you damn well qualify!
Why Financial Services?
A career in finance is thrilling and rewarding, and usually very lucrative. It appeals to young people who are very ambitious but also have a flair for economics accounting and the ability to quickly and intuitively understand and process complex financial data and concepts.
Finance is about managing money. This definition can be divided into financial management and financial services.
Financial management is about how an organization's resources can be used most effectively, whether a corporation, non-profit organization, or government agency. It  is where CFOs design and implement strategies to increase profitability within an organization.
On the other hand, the financial services sector involves transferring funds between savers and borrowers, managing investment accounts, raising capital for businesses and governments, providing investment advice, and mitigating the risk of financial loss.
Professionals in this sector deal with debt markets, stock markets, futures and commodities, hedge funds, mergers and acquisitions, or work in less stressful areas such as banking, insurance, and corporate finance.
Degrees for Careers in finance
University Diploma
Most careers, especially entry-level, require nothing more than a college degree. A liberal arts degree is an excellent place to start, but majors in economics, finance, business administration, and accounting are huge.
But here's a tricky question:
Do you need a bachelor's or master's degree in business administration?
Not necessarily. So why all the fuss about those three little letters?
Master Of Business Administration
Many consider an MBA a "pseudo-requirement," a simple screening tool to help employers select candidates from a broad pool of applicants.
So while a college degree with relevant primary and on-the-job training may suffice, an MBA gives you an advantage in hiring, promotions, and compensation.
Legal Class
The financial facilities industry is highly regulated in personal finance, corporate finance, wealth management or insurance, so a law degree is an advantage.
For example, a financial planner may need to deal with probate, trust, real estate and inheritance law, while wealth managers dealing with the affairs of the super-rich may need to provide tax advice on a complex array of assets.
Computer Skills
Finance professionals often need to process and analyze data. Especially at lower levels like financial analysts and even employees who do all the legwork for Careers In Finance
It is most efficiently achieved by computer programs that help create databases of calculations and models and create graphs, charts, and tables.
Certificate
Think of a career in finance as continuing education. If you are in it for the long haul and want to improve your credibility, you need to take regular exams to get licensed and certified Careers In Finance
The type of certification you need depends on the kind of job. For example, traders who buy and sell securities and trade financial products must obtain a Financial Industry Regulatory Authority (FINRA).
On the other hand, financial advisors need a CFP certification (Certified Financial Planner), especially in managerial positions.
Financial analysts take the Chartered Financial Analyst (CFA) exam because it certifies their securities and investment vehicles knowledge. It also indicates that they are familiar with quantitative methods for stock analysis.
Another required certification is that of a Certified Public Accountant (CPA), a must if you consider a career in accounting and auditing. do I have the idea
Fund Career Paths And Salaries
Most financiers are in for the thrill, but let's face it, the money is good too, perfect. But before we search this page for numbers, let's first understand some concepts.
A financial professional's compensation almost always includes a bonus or commission component on top of their salary or "base salary." Bonuses make up a more significant proportion of payment at investment banks, wealth management firms, and brokerage firms than banks and insurance companies.
Additionally, as you advance through the ranks, you'll receive a more significant percentage of your salary in the form of bonuses. Which are a combination of your departmental and company earnings. Unlike dividends, commissions are stereotypical.
Employees such as financial advisors who receive commissions are typically in sales positions. The revenue generated by your customers and other key metrics such as B. the value of your customer accounts determines your commission.
So if you're looking for real numbers, here they are. At the lower end of the scale, a financial analyst makes about $80,000 per year, more than a retail bank branch manager. Who makes $62,000 at the entry-level and rises to $154,000 at the top level.
But there is some solace in this relatively "secure" job. A branch manager makes more than an insurance manager whose annual compensation, including bonuses, is approximately $103,800.
If you join as a trader, you can expect to earn $70,000 at the entry-level. Up to $200,000 as an affiliate trader. Derivative works are even more lucrative.
But there's a lot at stake here: investment banking. Junior professionals such as sales, commercial, research, and M & M&A professionals attract up to $195,000 per year, while employees earn around $270,000.
At the highest levels, such as vice president, salaries top $460,000, while administrators or CEOs make $700,000 a year.
Outlook For The Financial Services Industry
The financial services sector in India is substantial and, more importantly, growing. According to research by Deloitte. The country has a burgeoning middle class that is projected to make up 20% of the total population by 2016 and 37% by 2026.
Even better, India has a very young population. With a predictable median age of 31 in 2025 and 38 in 2050.
Translated, this advises a population that has more money. And much of it belongs to the youth, who like to spend and grow their money by investing it.
More good news for wealth managers and investment bankers: According to Deloitte, the number of people with a high net worth ($1 million) will increase by 58% between 2015 and 2020.
As for the banking and insurance sectors, they too can toast. It is estimated that only 35% of households in India have bank accounts, and 10% have life insurance.
There is considerable growth potential there. Additionally, with the increasing use of credit cards, rapidly expanding mobile banking, and the constant flow of remittances from NRIs, the banking industry has something to brag about.
Financial Functions of Careers In Finance
Learn about specific roles and careers in finance.
A Career In Investment Banking
A Career In Wealth Management
Career As A Financial Analyst
Financial Trading Career
Career As A Bank Manager
Career As An Insurance Manager
Related posts