Yorkie Teddy Bear Cut Overview, FAQs, Different Shapes and Tips
Treasure Biz, 2 years ago
7 min

read
540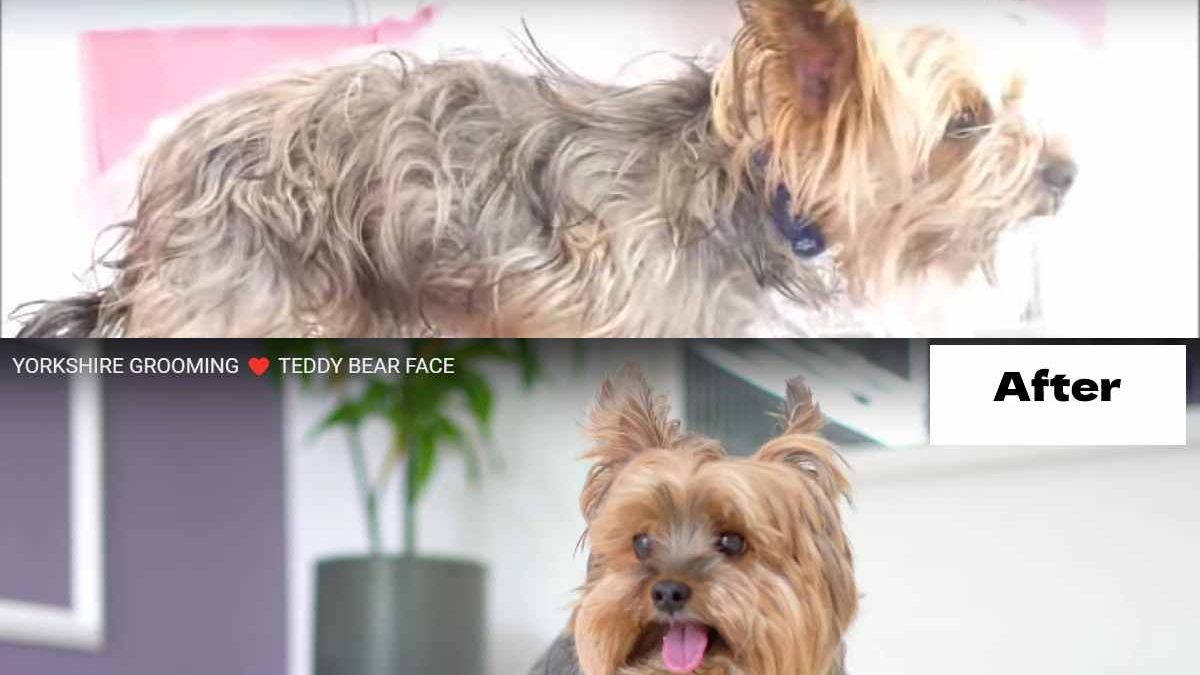 Yorkie Teddy Bear Cut Overview
When you want to go for Yorkie Teddy Bear Cut, one thing you'll need to decide is the lifespan of the coat. Puppies are born with short fur, of course, but their hair begins to grow at 12 months of age, or earlier in some cases. Without trimming or shaping, at 24 months, the coat can reach floor length.
This cut is perfect for Yorkies, considering they are cuddly and affectionate dogs. And just like with your favourite stuffed animal, you won't be able to resist giving your dog a squeeze when he wears this style.
Many people are not happy with the Yorkie Teddy Bear Cut they have been getting for their dogs.
Just follow the steps below to have a successful and wonderful grooming experience :
Firstly, remove every tangle before grooming because if your groomer spends a lot of time detangling your dog, he will not get enough time to groom and make it look beautiful. Their job is not to detangle your dog but to give it a beautiful cut.
Secondly, take your Yorkies for a long walk before the grooming appointment. They then enjoy the pleasant experience of grooming. If they are tired, they behave well.
Thirdly, show your groomer the picture of the haircut you would like to get a lovely teddy bear haircut. Make sure your groomer understands what you want to see in your Yorkie's haircut.
You don't ask the groomer for a puppy cut because they cut your Yorkie extremely short.
Make sure to find a groomer who has an excellent reputation who has proper skill. The place has to be clean and sanitary because you will leave your Yorkie for the Yorkie teddy bear cut for a long time.
Establish an excellent rapport with the groomer. How you behave with your groomer, how polite you are going on time as per your appointment, and giving excellent tips all matter for the successful Yorkie Teddy Bear Cut.
Yorkie Teddy Bear Cut FAQs
When does a Yorkshire Terrier need a haircut?
The coat will need to be trimmed approximately every 6 to 8 weeks to maintain the chosen length.
How old should a Yorkie be for his first haircut?
For a Yorkshire Terrier with a short "puppy haircut", the time for the first haircut will be between 9 and 12 months, which is when the hair can grow long enough to require a haircut. If your Yorkie's hair isn't long enough at this age, don't worry, it may take a few more months, up to 18 months in some cases.
If you take your Yorkie to a groomer, you'll want to make sure your puppy has had all of his shots before going out into a public place.
How long does it take for a Yorkshire Terrier to grow a long coat?
Every dog ​​is unique in the rate at which the coat grows and its capability to reach floor length. Sometimes, a Yorkie may not be able to increase its fur for that long; it can stop a few centimetres from the ground.
Different coat lengths for the Yorkshire Terrier
Before you start thinking of any shapes (details will come), you may want to start by deciding how long you want your Yorkie's coat to be.
Different Shapes of Yorkie Teddy Bear Cut
The options with the Yorkshire Terrier are endless; you can take an idea and adapt it to your taste.
Short Flare Haircut: With this style, the main body is cut very close, and the hair on the legs is long and flares out at the bottom. Although there may be variations for the top, this lovely cake has a beautiful square cut.
Flared Shaved Haircut: This is a much more dramatic version of the flared cut; the body and upper legs have long extended hair from the middle of the front legs down. Forehead hair is in a bun. Although the head can be any length, it has long hair that falls over her ears.
Teddy Bear Haircut – The teddy bear hairstyle is adorable because it makes a Yorkie look young and super cuddly. The hair is of the same length and rounded on the legs and face, it needs to be set quite often to maintain its shape.
Westie Cut – This is done with medium to long hair, giving an angle cut to the face.
Square Puppy Cut – The brow hairs are left about 1 inch long, and with a touch of gel, they will lift, completing the cube shape.
3 Layered Stack – This is a pretty haircut style with three distinct layers. Although this Yorkie's second stacked coat is black and sandwiched between the gold first and third coats, this will not be the case with all Yorkshire Terriers who may have a different colour placement.
Valuable Tips for Yorkie Teddy Bear Cut
Check reviews and go to a professional experienced groomer for your Yorkie's hair trimming. Ask friends, family, co-workers and neighbours for recommendations if you are a beginner.
One of the most common problems is that a groomer gets carry away and shaves the coat much shorter than the owners request. So if you're taking your Yorkie to a specific groomer for the first time, always have photos showing precisely the length and shape you'd like it to be.
A Yorkie may have trouble standing still for a stranger, and someone unfamiliar with the preferred style may not cut it as expected.
For this reason, you speak to your regular groomer and let them know that if, for some reason, you are unable to house your Yorkie, you would like them to call you to pick up your dog rather than having someone else pick it up.
When choosing a hairstyle for your Yorkie, do so based not only on what looks good but also on what you can afford to maintain and how much time you have to fix and keep it.
Yorkie Teddy Bear Cut – A Short Yet Cuddly Yorkie Haircut
If you're heading into fall or cooler weather, the teddy bear cut could be the perfect style for your pup. This haircut strikes a nice balance between manageable length and good coverage. It offers more warmth without being too difficult to maintain.
A typical Yorkie teddy bear cut leaves the total length of a Yorkie's coat two to three inches, including the face. This cut gives you a slightly puffy and adorable look. It will be a massive waste of time as you won't be able to resist the urge to hug your dog.
The teddy bear cut requires more frequent trips to the groomer to maintain the correct length. And, regular brushing is must to prevent tangles and matting. However, this cut still requires relatively low maintenance. Cut a quarter inch shorter than usual so it lasts a little longer.
Yorkie Teddy Bear Cut – Easy Hair Care Tips and Actions
Giving a Bath Regularly
Yorkies are for an indoor breed, these little dogs possess curiosity about the world around them.
Tiny Yorkie Teddy Bear Cut manage to get quite dirty even on short visits to the garden. And when they do, it's essential to keep their coat clean and free of debris.
Give bath to your Yorkie every few weeks to maintain his fine coat to a minimum. And remember always to use a high-quality Yorkie shampoo, never a hair care product designed for humans.
Regular Brushing and Grooming
After bathing, careful grooming is necessary. Practice of regular brushing is the best way to prevent a Yorkie's coat from matting.
If possible, brush your puppy promptly every day or every other day. At a minimum, weekly brushing is necessary to keep his coat clean and tangle-free. Yorkie Teddy Bear Cut coats need a few different types of meetings to ensure you address any issues that may arise.
Regular Conditioning
After bathing and grooming your dog, the final step in maintaining a beautiful Yorkie Teddy Bear Cut coat is a good leave-in conditioner.
As with the shampoo, never use a conditioner designed for humans or other animal species, so be sure to select a quality conditioner made specifically for dogs.
Helpful Resources: Stock Archiving Guide
Conclusion
Yorkie Teddy Bear Cut hair care has a reputation for being time-consuming, but it doesn't have to be. Caring for a Yorkie is just as much fun as their wacky little personalities with a simple, low-maintenance haircut and regular grooming.
Also Read:
Related posts