Whatsapp Advantages And Disadvantages
Treasure Biz, 1 year ago
4 min

read
481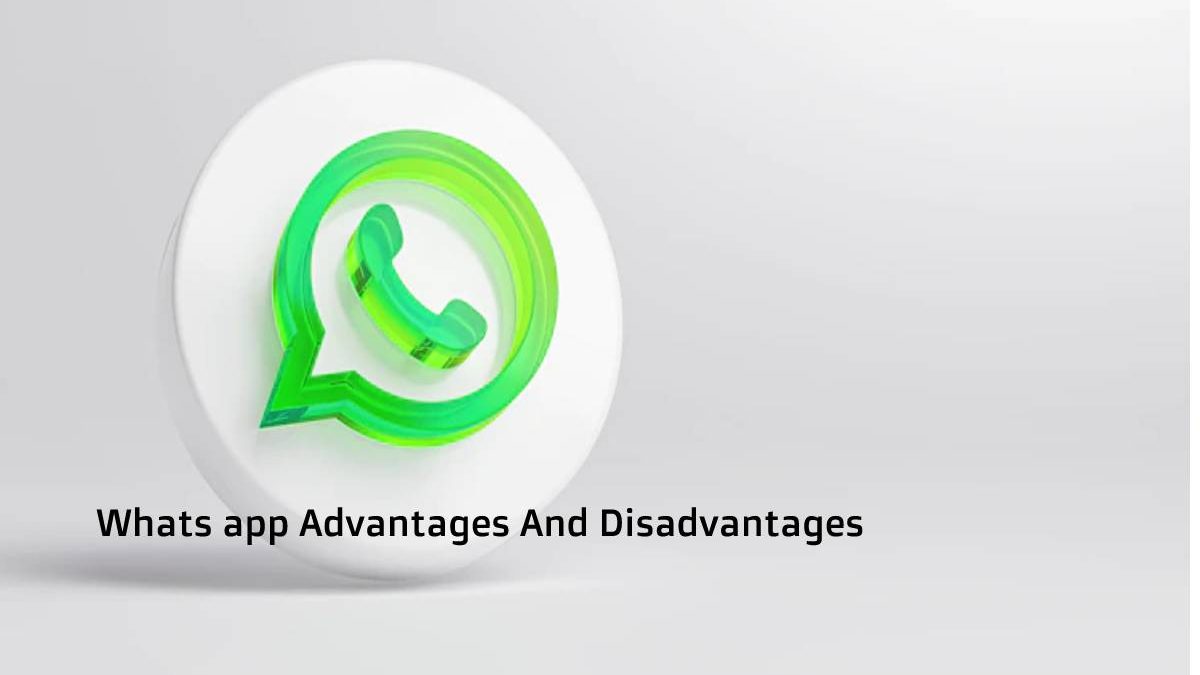 The Six Main Benefits Of Whats app – Positive Effects
1. Exchange Of Information
Whats App is the best platform to share and access information. Whether it's a New York Times article or a doggo meme, WhatsApp is the best platform to share news or information. According to a study by the Reuters Organization, WhatsApp is becoming an essential source of information in several countries. In Malaysia, 51% said they use WhatsApp for information. Extensive information representing images and documents can be transmit transparently.
2. Help Network Across Continents
Through internet messaging and the subsequent introduction of voice and video calling, WhatsApp is helping to connect teenagers with friends and family across countries and continents. Think of it as a psychological effect, but WhatsApp supports teenagers to feel safe and close no matter the distance.
3. Online Learning
Whats App has recently evolved into a pseudo-e-learning platform. Teachers not only share notes or information, but they can also create educational videos or YouTube videos and share them in WhatsApp groups. They are speaking of versatility!
4. Security And Protection
Thanks to WhatsApp's secure end-to-end encryption, a teenager's personal information is safer. Let's not be naive and deny the class of perverts and paedophiles hiding out in the open, waiting for facts and information about children. WhatsApp offers security on this front and helps teenagers avoid these problems. They can share their personal information with their friends without fear of leaks.
5. No Ads
Thanks to WhatsApp's no-ads policy, WhatsApp doesn't act as a distraction like other social platforms. Adolescent teenagers are easily influenced by advertising and make impulse purchases. Since WhatsApp has not been monetized, it serves its purpose as a real communication platform.
6. Business Opportunity
It's nothing new that social media is a way to do business in today's online world. Thanks to the massive use of WhatsApp, product promotion has become more accessible. As a result, the possibilities for young people to earn a living with creative means have also expanded. The platform is there. In addition, WhatsApp Pay is easy to use and has a vast user base (20 million). People can even use their existing WhatsApp accounts to send and receive payments. No additional app is required for these payments simplifies the whole process.
Top 6 Whats App Cons – Negative Effects
1. Lack Of Concentration
It has been reported that youths who is constantly engross in WhatsApp have a lower concentration. Checking your messages or scrolling through your chats contributes to this problem. It is careful to be one of the greatest damaging effects of WhatsApp. One of the most detrimental effects of Whatsapp on students can also lead to a lack of focus on education.
2. Social Isolation
WhatsApp has contributed to the social isolation of young people. Today, teenagers prefer to chat in groups and via personal messages at any family gathering or party rather than communicating in real life. Teenagers find talking via text much more comfortable than talking face-to-face. It can lead to problems such as B. lack of confidence in large meetings or language issues.
3. Health Problems
WhatsApp contributes to many problems, from lack of sleep (from constant chatting) to eyestrain. Several studies have confirmed that WhatsApp contributes to adolescent health problems. WhatsApp's impact on students is a growing concern for many doctors and counsellors.
4. Sexual Grooming
Sexual grooming is a phenomenon in which perpetrators (paedophiles) form an emotional bond with children and young people and sexually exploit them. The relationship is secret. Keeping this relationship secret is especially important for this type of harassment to continue. WhatsApp, a second most popular application, can be used by these hairdressers to maintain and keep this relationship secret. Encryption ensures that conversations is not track. It can also be the main to sexting and inappropriate messaging.
5. No Content Censorship
Since WhatsApp does not censor the type of content shared, much inappropriate information and media can be shared. It can also be used to blackmail youths with their data, and nobody will find out unless the teenagers complain about it.
6. Money Fraud
Users can use the platform to exploit inexperienced boys and girls for money. Recently there have been many of these money transfer app cases where people pretend to be sellers and receive the transferred money only never deliver the product. Due to the comfort of sending and receiving payments, teenagers can also find themselves in a pool of fraudulent activity when asking people for money in exchange for false promises.
Like most things, WhatsApp has its pros and cons. it is up to the user how to use their application, and WhatsApp has precious advantages. You should learn that this app is designs to break down barriers, information and support communication. The results harming the user mainly depend on how the user uses the application. It is significant that we, as adults, also communicate with young people. It is up to adults, guardians and teachers to teach teenagers how to use WhatsApp.
Related posts